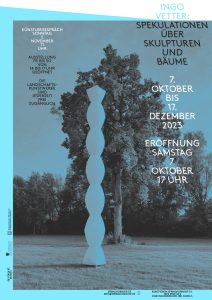 A solo exhibition at Kunstverein Springhornhof
How is public space constituted and what means can be used to act here? In the exhibition, Ingo Vetter shows two groups of works that approach this question with very different methods.
The exhibition is accompanied by posters designed by Tania Prill and a publication with a conversation between Ingo Vetter and Lisa Le Feuvre (Director Holt/Smithson Foundation, Santa Fe).
Opening, Saturday, 07 October 2023 at 5 pm with a welcome by chairman Prof. Dr. Martin Warnke and a talk by Ingo Vetter and Lisa Le Feuvre.
Exhibition tour with Ingo Vetter on Sunday, 05 November at 11 am.
Kunstverein Springhornhof e.V., Tiefe Straße 4, 29643 Neuenkirchen (bei Soltau), Germany